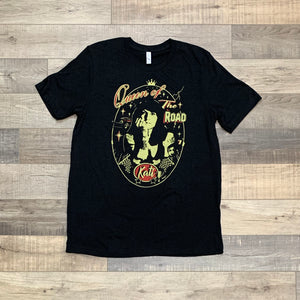 The Queen of the Road graphic is a tribute to co-founder of Nostalgic Rags Kati Hammett.  She passed away September 26th, 2018 from complications of a stroke and brain aneurysm.  She was married to the other co-founder of Nostalgic Rags-Jeff Hammett for 28 years, and had two children Dixie and Dashiell.  Her memory lives on through additional graphics including "Tuesday's Gone With The Wind" and "Queen of the Road".  
Kati was such a huge part of the Austin Hotrod culture starting the Fender Skirts Car Club for women with co-founder Laura Matthews.  She was also sort of a "Team Mom", for the Kontinental's Car Club.  She planned most of their travels as a group going West To Paso Robles, Ca., and Santa Maria, Ca.  She also planned their "Delta Blues Highway" trip that will never be forgotten.  
Kati was one of a kind and as someone that had the blessing of being married to for 28 years,  I had a front row seat watching her grow from a young, 20 year old to the selfless, wise, and all so giving woman she became.  
Although Kati passed away at the age of 50, she lived life to the fullest always and gave to those she met and loved with everything she had.  We love you and miss you Kati!  
***********************************************************************************
50% OF THE PROCEEDS FROM ALL HER MERCHANDISE WILL GO TO THE CHARITIES ASSOCIATED WITH ANYTHING TO DO WITH STROKE, BRAIN ANEURYSM, MIGRAINE AND MENTAL HEALTH ILLNESSES.