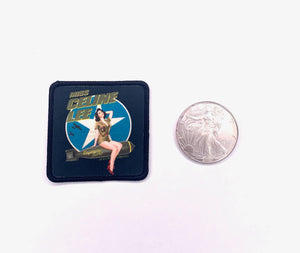 Celine Lee was born in Florida in the 80's but grew up listening to the music of the 40's and 50's and even older, thanks to her grandparents. On one side were the grandparents who would listen to Peggy Lee and Frank Sinatra and on the other side were a mix of a Slavic musician Grandfather ( who was also a Pro-Basketball player in the 50's) who taught his granddaughter Croatian folk songs, and Grandmother, the real Miss Atomic Bombshell 1949 (inspiration for one of her debut albums songs) originally from Oak Ridge Tennessee, who always had Hank Williams Sr, Patsy Cline, and Elvis playing on the turntable.
Growing up being influenced by such music there was little surprise when she started her first band, Celine and the Hellbillies, the rebellious streak no doubt inspired by her Punk Rock music-loving parents. Feeling a change of atmosphere and familiarity would help her singing career, she moved to the Big Apple. It was there she starting singing with a few local Rockabilly bands and getting to know the big city's many great artists, and some national touring artists. One meeting was with Texas honky-tonker Dale Watson. 
" A friend told me that Dale Watson was playing in town and we went to the show. I got to chat with him about being a singer and appreciating his music", said Celine." But the real surprise came weeks later when in a Facebook message I was contacted by Dale's record label and asked for permission to use a photo that I posted on my Facebook page! It was a candid shot taken by a friend from when I was a hostess at the Playboy Club. I was always the bad bunny at the club and doing what I wasn't supposed to do: drinking Champagne out of the bottle, having small rips in my pantyhose. And when that photo was taken, I had just gotten a warning and I one finger saluted, but jokingly, that's why I'm smiling in it. A girlfriend happened to take a pic of it."
That picture would later lead to a 45rpm 6-song EP released by Dale Watson that would contain 4 co-writes by Celine. " I saw that pic and it struck me it had to be an album cover. It was devilish and angelic at the same time. The problem was I didn't have an album to put it on, so when we got her permission to use the picture  I called her up and asked if she would help write the songs for it," laughed Dale Watson from his Austin,Texas home. "It took some time because she lived in New York and me, here in Austin. It was the first time I wrote songs via text messages. It worked great!"
The songs she co-wrote eventually were re-recorded for Celine Lee's debut self-titled album. In total, she has co-written 8 of the 10 songs on the album. With a mixture of her earliest influences, Wanda Jackson and Peggy Lee, Celine Lee has burst on the US and European scene with a string of successful tours. Her gutteral growl and genuine firecracker stage presence is making audiences smile and cheer for more of this generation's Miss Atomic Bombshell, Celine Lee.