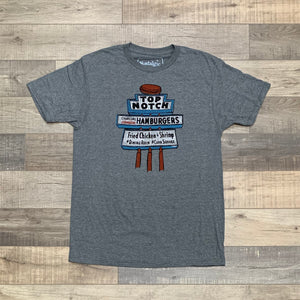 To most Americans, Top Notch's greatest claim to fame is its appearance in Richard Linklater's 1993 film, Dazed and Confused. But ask an Austinite, and they'll say the burger stand's popularity has more to do with its charcoal-grilled burgers and fried chicken.
Ray and Frances Stanish first opened Top Notch in 1971. Despite Ray's death in 2004 and the death of their son James in 2008, the Stanish women managed to keep the establishment open and in the family for a full 39 years. Only when her health began to wear away did Frances decide to sell the business to brothers-in-law Kelly Chappell and Phillip Santa Cruz — whose families own Galaxy Cafes and Zocalo — in 2010.
While the two have certainly made a few changes (Top Notch now opens on Sunday and accepts credit cards), the menu remains largely the same, save for a couple extra sides and pie flavors. Its best seller is still the time-tested cheeseburger, topped with tomato, lettuce, pickles, onions and mayo for a wallet-friendly $3.45. For the more adventurous, the employees recommend the "Longhorn Special," a double meat burger complete with Top Notch's own special sauce.