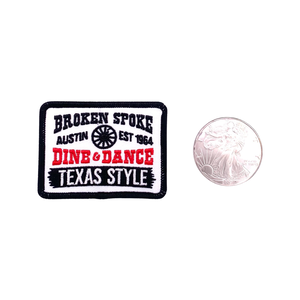 The Broken Spoke is Texas' most definitive dance hall. They have been voted "Best Dancehall in Texas" by Texas Highway!  It's not one of those fly-by-night, trendy newcomers, you see springing up in some out-of-business lumber yard or feed store on every corner. You can't build a legend overnight. Owners James and Annetta White have been operating the Austin tradition since 1964 and its reputation for great live country music and good Texas cooking is
World Famous!
Back in the sixties, the Spoke played host to countless country super stars and legends. Bob Wills, Ernest Tubb, Roy Acuff, and Tex Ritter have all tipped their hats from the stage at the far end of this old dance hall.
Willie Nelson started playing at the Spoke before he moved back from Nashville when he still had a crew cut and a sport coat - before he brought braids and tennis shoes to the forefront of country fashion. In fact, it's not a bit unusual to stumble into the Spoke on a Friday or Saturday night and find the Red-Headed Stranger kicked back against an amp, picking with whatever band is the featured entertainment of the night. It's no secret that the Broken Spoke is one of Willie's favorite hang-outs when he's home in Austin.
Through the years, James and Annetta have opened their doors and welcomed to the stage a pretty impressive list of aspiring musicians. George Strait and his Ace In The Hole Band cut their teeth in the music business playing by the neon lights of the beer signs in the Spoke. A wide variety of country superstars from Kris Kristofferson to Kitty Wells have jumped up on that stage and carried on the tradition of good country music that the Broken Spoke has made famous.
It is a favorite hang-out of most of Austin's "real" country musicians. Don't call 'em "Hat Acts," around here...the hats you see on stage at the Broken Spoke are as traditional as the music echoing off the walls.  You can see talented musicians every night the Spoke is open such as Dale Watson, Alvin Crow,  the Derailers, Jason Roberts,  Two Tons of Steel, Gary P. Nunn,  Billy Mata, Weldon Henson, Cornell Hurd, Bobby Flores and many more.
James White likes to tell a story about another Texas legend, Davy Crockett: "yeah, old Davy came through here on his way to fight at the Alamo and he liked what he saw.  He said, James, don't change a thing 'til I get back".  Well poor ole Davy never made it back so we ain't changing nothin!
Although the Broken Spoke isn't quite as old as the Battle of the Alamo - it captures the mystical charms that makes Texas worth fighting for all over again. And we're still holding strong right in the middle of a fast-growing Austin, Texas! There isn't anything fancy in the red rustic old dance hall. After you're inside, be sure to check out James M. White's tourist trap room with all its memorabilia of country music. And as James always says, "We ain't fancy, but we're damn sure country." Y'all come see us!