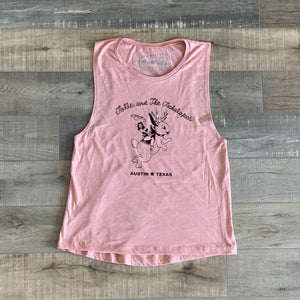 Howdy friends!
By the grace and rustic powers of Kimmie Rhodes and Joe Gracey I was blessed with a showbiz life, surrounded by musicians of all kinds, but mostly those of a country variety - a vast array of Americana song-writers, country swing fiddle players, cowboy poets of the cosmic persuasion, and country heroes.  I grew up in some kind of central Texas hill country beautiful lunacy, one to which I care very deeply to pay homage. And in my mind I was having a beautiful life (coincidentally, this phrase made its way into a song Mama and Waylon wrote together.) In the scrapbook of my childhood mind there is a melange of country music images and moments: of cranking peach ice cream out on the porch with guitar player Bucky Meadows, of Stubbs in the kitchen making BBQ sauce, of crayons on Willie Nelson's tour bus and he calls me the best colorer in the world, of Waylon Jennings and I picking out matching shirts and his happy-birthday-answering-machine-messages, and of Blaze Foley giving me a flashlight and a teddy bear.
For years I slept in my daddy's bass case with my stuffed animal and a book backstage at Farm Aid and Willie's 4th of July Picnic and other concerts. From backstage I watched Mama look and sound like a rockabilly pin up cowgirl queen in her petticoats, bustiers, vintage boots and cowgirl hat. I learned to dance at the Broken Spoke by placing my little feet on the boots of old Texans willing to teach me to two-step. Many weekends and summers were spent at Willie's Pedernales studio where I remember sticking my head in the echo room over and over to imagine my voice sounding like Patsy Cline's. It was a magical place of only music in the air, old grey new balance tennis shoes, and Shiner Bock. If I think far back enough into my little girl days, it isn't just a whirlwind, but rather a Southern tornado that consists of the sounds and words of Wayne Hancock, Ray Campi, Rosie Flores, Asleep at the Wheel, Johnny Gimble, Joe Ely, Doug Sahm, Townes Van Zandt, Bob Wills, Alvin Crow, Hank Williams, Carl Perkins, Elvis, Frida and the Firedogs, Flaco Jimenez, Jerry Lee Lewis, Jimmy Day, John Reed, Gary Nicholson, Beth Neilson Chapman, Emmy Lou Harris…
Fast forward and I'm in my twenties exploring the rockabilly scene that Austin had to offer. Luckily into my life arrived two folks who welcomed me and loved me and made me feel right at home, Dylan Cavalier and the late Chadd Thomas. It makes me simply giddy that Dylan is the man slapping the bass for Jolie & The Jackalopes. From then on, the rockabilly family has been a wonderful haven for me in cities across the nation.
Before I was born (and a little while after) Mama, Daddy, Bobbly Earl Smith and a bunch of other Austin cronies had a band called Kimmie Rhodes & The Jackalope Brothers. And so, the mythical jackalope is my heritage and I find it my duty as an Austin gal to carry on the name of such a creature.
In the words of daddy, "Drink lots of water, stay off your feet, and come when you can," Thanks y'all, Jolie Goodnight